.
.
Fascinating Rhythm/I Got Rhythm
.
.
.
JEAN-PIERRE RAMPAL
Fascinatin' Rampal Plays Gershwin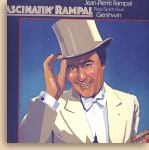 © CBS 1985

Jean-Pierre Ramphal: flute, alto flute,
with members of the Los Angeles Philharmonic
Arranger & Conductor: Michel Colombier

a note from Jean Pierre Ramphal:
For as long as I can remember, I have revered the miracle that is Fred Astaire - both his dancing and his musicality. Like the rest of the world, we in France, adore Astaire's impeccable style and grace; and, as a musician, I know his timing and inflections are unsurpassed. It was Astaire then who, through his movies "A Damsel in Distress", "Shall We Dance", and "Funny Face", brought me to the music of another American genius, George Gershwin.

Unfortunately Gershwin didn't write music specially for the flute. Although longing to perform his works, I hesitated for fear of not finding suitable arrangements that would do justice both to the composer and to the flute. But my reluctance was swept away the moment I heard Michel Colombier's brilliant transcriptions. At last, I could share in the talent and humanity of George Gershwin.